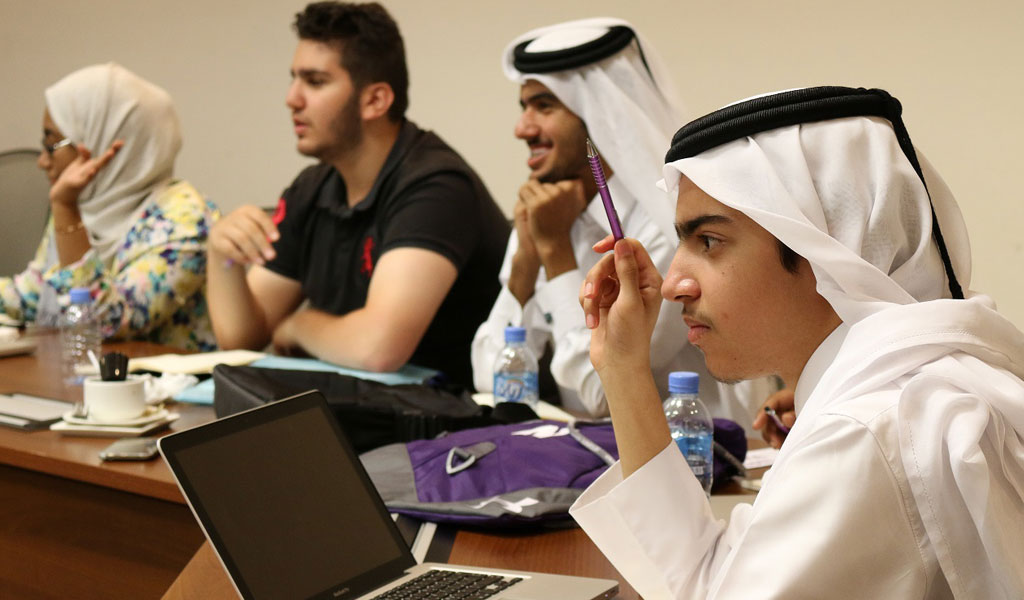 Local high school students graduated from theNorthwestern University in Qatar (NU-Q) Summer Media Program this month, offering budding local media enthusiasts an overview of journalism, advertising and PR with an emphasis on culture, politics and sport.
Students took part in an activity-filled schedule that offered live experiences in breaking news and crisis communications challenges, learning how to speak at a press conference, a field trip to Souq Waqif, as well as writing and editing a 1000-word feature article.
Now in its sixth year, the program is recognized across the country as a unique opportunity for young people interested in media careers, or those desiring a better understanding of how media works through first-hand experiences using popular digital platforms.
"We saw a great response for this year's program, particularly from young Qataris that made up more than half of the class," said NU-Q Dean and CEO Everette E. Dennis. "This year's class presented some extraordinary work exploring topical issues such as gender gaps in the workforce and challenges in audience attendance at Qatar sporting events."
The two-week course offered 25 high school students valuable exposure to the inner workings of media and communication fields. This year, two guest speakers from Al Jazeera spoke to students including NU-Q alumna Amna Al-Saadi who described her journey to journalism, and how her time at the 2010 Summer Media Program and her four years at NU-Q helped her to achieve her goals and prepare for the workplace. Hasan Patel, senior executive of communications, also described the importance the communications and PR department, answering tough questions and giving students valuable insight into his role within the global news agency.
Students learned on a daily basis through lectures, classes and workshops to gain a thorough understanding of both regional and international media. The program culminated in students developing a social media campaign for a restaurant in Souq Waqif. They were tasked with creating videos, Snapchat stories, or a series of Instagram posts documenting the restaurant, and also offered advice on how the owners can create or build exposure within the local community using a variety of media tools.
Last year saw 25 local students graduate from the NU-Q Summer Media Program, which in 2014 focused on documentary filmmaking, emphasizing key techniques in cinematography, lighting and editing.
NU-Q will also host a number of media-related workshops and events throughout the year helping to develop and encourage Qatar's budding media enthusiasts. This includes the Qatar Leadership Conference on October 15-17, one of the largest professional development conferences for educators and students in the Middle East, in conjunction with THIMUN Qatar.