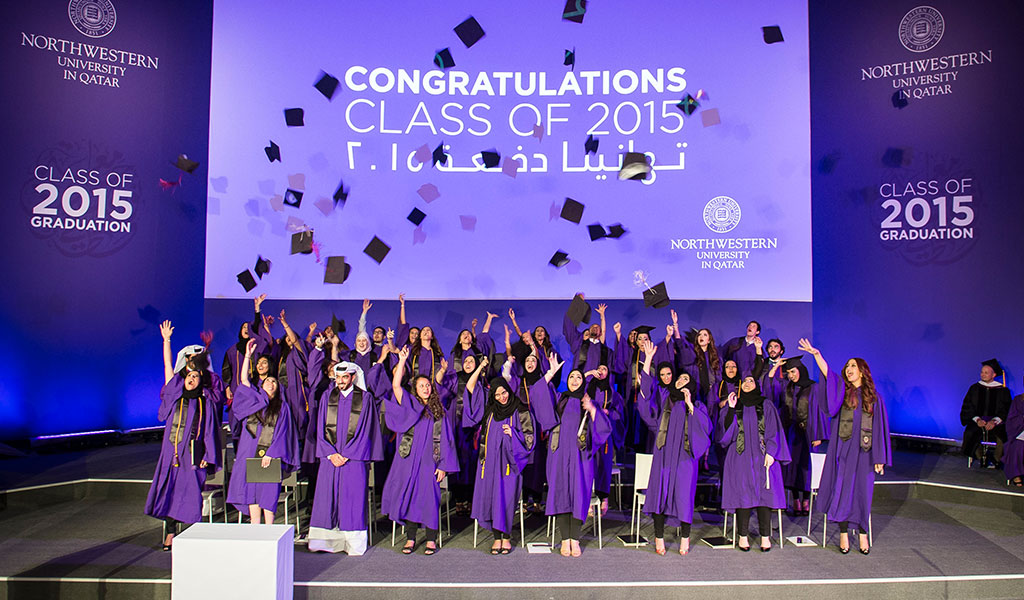 Changing the world through social entrepreneurship was a key message at Northwestern University in Qatar's fourth annual graduation exercises. The ceremony, held Sunday, May 3 in Education City, honored 41 graduating students from NU-Q's journalism and communication programs.
Keynote speaker Shiza Shahid urged the graduates to take sensible risks when facing challenges: "The truth is there are no superheroes, there's just us." Shahid is global ambassador for the Malala Fund, named for the young activist who was shot in the head for her efforts to get an education in her Taliban-occupied town in Pakistan.
Shahid, one of Time magazine's "30 Under 30 World Changers," spoke about Malala's resolve in the days after she was attacked: "She looked at me and said, 'I'm fine, tell them to help the other girls.' I knew then that what Malala had started had the potential to change the world and that she, like before, wanted to fight the battle to get girls in school… There are certain moments when you have to decide who you are. In those moments, be bold.
Everette E. Dennis, dean and CEO of NU-Q, likewise encouraged the class to continue their public service as they pursue their careers: "The Class of 2015 has a singular interest in and commitment to helping others. They are poised to become exceptional global citizens, which will add purpose and direction to their careers as media professionals.
The class speaker was Najwa Abdulrahman Al-Thani, a student who "embodies the leadership, academic excellence and commitment to community service" of the graduating class, according to Dean Dennis.
In her remarks, Al-Thani looked back on her time at NU-Q and urged her peers to continue their pursuits with creativity and professional rigor. "Northwestern has taught us to take creative risks," she said. "We gained the necessary tools to have the power to shape history. Do what you love and not what is expected of you."
The 41 graduates received their diplomas in the presence of 800 guests, including some of Northwestern University's highest ranking officials: President Morton Schapiro, Board Chairman William Osborn and Provost Dan Linzer. Dana Shell Smith, US Ambassador to the State of Qatar, was also present to honor the graduates.
Earlier in the day, several graduates were honored at an awards lunch hosted by Northwestern University President Morton Schapiro. Addressing the graduating class, President Schapiro stressed the unity of Northwestern students, regardless of where they study: "Northwestern University doesn't have satellite or branch campuses. We have three main campuses. One is Doha, one is in Chicago, and one is in Evanston," he remarked.
The lunch recognized outstanding student achievements in several categories:
Dean's Award: Jaimee Haddad
Student Leadership Award: Marium Saeed
Communication Award: Nissryne Dib
Journalism Award: James Zachary Hollo
Liberal Arts Award: Aamena Ahmed
At a separate ceremony, two NU-Q students, Ibrahim AlHashmi and Marium Saeed, were among the five Education City graduates honored with an HBKU President's Award.
This is the fourth graduating class for Northwestern University in Qatar, which opened its doors in 2008. As Northwestern University's 12th school and only overseas campus, NU-Q offers programs based on the curricula of the Medill School of Journalism, School of Communication and Weinberg College of Arts and Sciences.
Members of the Class of 2015 hail from 15 countries worldwide. Seventeen of the students graduated with academic honors, with 10 students making the Dean's List seven times. This cohort is particularly distinguished, having published in or worked for several prestigious publications, media and news companies including: Sports Illustrated, Financial Times, Xinhua News Agency, New York Times, Huffington Post and the Pulitzer Center on Crisis Reporting.
Northwestern University will celebrate its 157th convocation in June; NU-Q will send a contingent of graduates to walk on behalf of the Qatar campus.