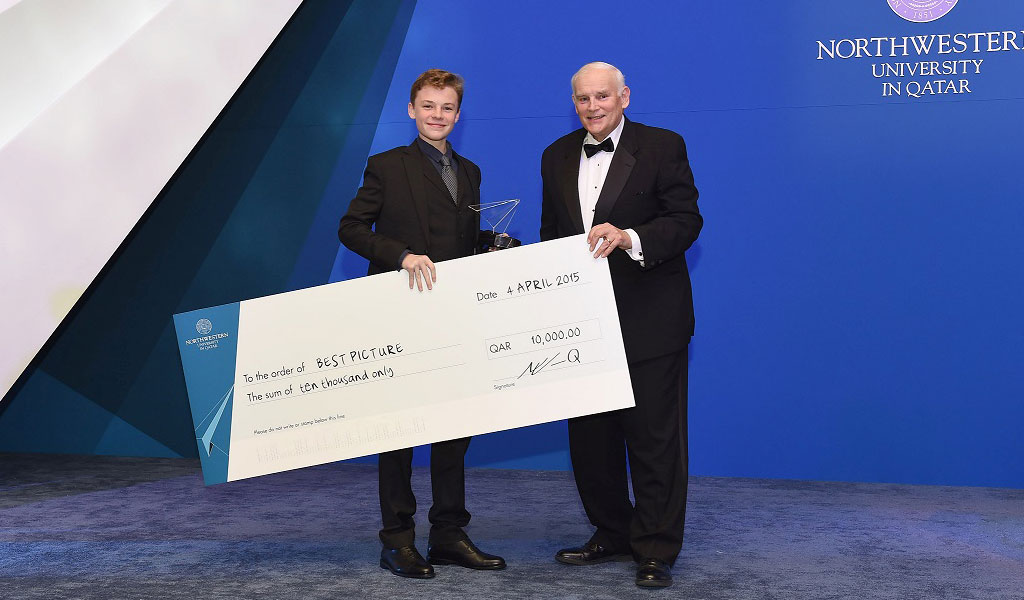 The short film "Cyber Bullying" won Best Picture at the 6th annual THIMUN Qatar Northwestern Film Festival held in Doha last weekend. The documentary by Barnaby Duffy of Singapore is a compelling animated short that outlines the origins, ramifications and potential solutions to the cyber bullying problem. The film was among 55 submissions from high school students worldwide.
The annual event is a collaboration between THIMUN Qatar and Northwestern University in Qatar. Each year, high school students from around the world are invited to submit a four to eight minutes documentary on a social issue. The films are judged by a panel of NU-Q faculty members who are experts in media and communication, film studies and the making of documentaries.
"The film festival is an opportunity for students to spread their creative wings," says Everette E. Dennis, dean and CEO of NU-Q. "Further, it shows young people how filmmaking can give voice to the issues they find important. The film festival received some very compelling submissions this year, as the seven award-winning films demonstrate."  
Two of the award-winning documentaries addressed the subject of dangerous driving, a pressing problem in Qatar and other gulf countries. Qatar's Sana Al-Ansari won Best National Picture for "If They Only Knew," about the culture of dangerous driving among young Qatari men. The Best Editing award went to Charlie Cracknell of the UAE for "Safe Driving Saves Lives."
Rounding out the winners from the Middle East, Doha student Dulshan Jayasekara won Best Sound for "The Tipping Point," a film about the pressures and anxieties teens face.
Lisa Martin, head of THIMUN Qatar, remarks: "The film festival is an opportunity for students to communicate their thoughts in a compelling and persuasive way, and to advocate for change. The submissions this year were very high quality; they are a glimpse into the way young people see our world, and I encourage everyone to watch them."
Three international submissions won for Best Story, Best Junior Picture and Best Cinematography: "Hands of a Woman," by Ecuador's Miguel Andrade; Ek Kahaani by Mahima Singh, and "Blind Owl," an experimental film by Istanbul's Ibrahim Furqan.
The winners were announced at the Gala Awards Night on April 4, 2015. All of the winning submissions, as well as the nominated films, are available on the THIMUN Qatar YouTube channel.