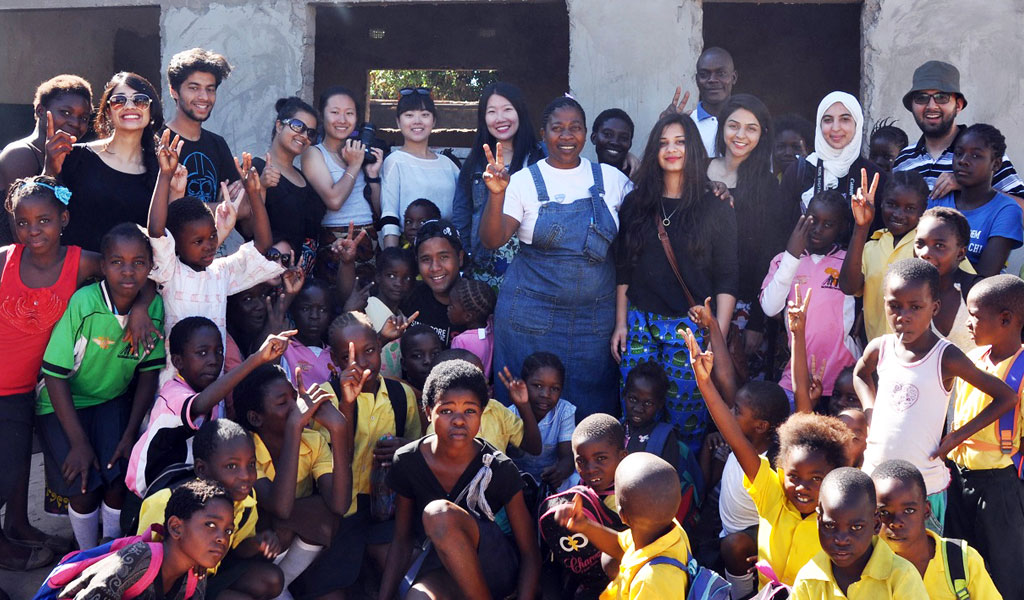 There is water everywhere in Zambia: the African nation is home to the world's largest waterfall, Victoria Falls, and the rainy season can create flooding that makes roads impassable. However Zambians are among the 748 million people worldwide who struggle with access to drinkable water, as a group of NU-Q students saw for themselves during this year's Spring Break.
Each year a group of NU-Q students organize a Service Learning Trip, their goal to raise awareness of a global issue, raise money to address the issue, and travel to see the crisis and work on local community projects.
For the 2015 trip, students choose the global water crisis, an issue that hits close to home. With no natural fresh water supply, Qatar has as little as two days of desalinated water reserves, according to the Qatar National Food Security Programme in 2012.
"We chose the global water crisis because it resonates with us, living in Qatar," says Syed Owais Ali, an NU-Q student and one of the trip's organizers. "We have now raised almost enough money to provide clean water to 40 people for 20 years."
Everette E. Dennis, dean and CEO of NU-Q, believes experiences like this are crucial to developing a more global perspective. "Service Learning Trips are a student initiative: they research issues, plan the trip, raise money and awareness and share their experiences with the rest of the student body. This trip to Zambia has opened their minds and it will make them better journalists and media professionals."
While in Zambia, the students travelled to a small village to see how people struggle to get clean water. They also spent time in a school in one of the poorest parts of the African nation, teaching and helping build a new classroom.
"It is astonishing to see how much we achieved in such a short period of time. We plastered walls and made the floor of a large classroom and taught more than 150 students as a group. These trips allow us to understand global issues in a more complex and intimate way. This kind of learning cannot happen in a classroom setting," remarked Syed Owais Ali.
To raise money, the student group created their own campaign to raise money for Charity Water, an organization that delivers water, sanitation and hygiene services to developing countries. The campaign was a 'chilli challenge,' an innovative way to get people thinking about clean water. Participants eat a hot chilli, which immediately makes them crave a glass of cold water. The group has collected videos of the challenge on their Facebook page, Qats for Zambia.