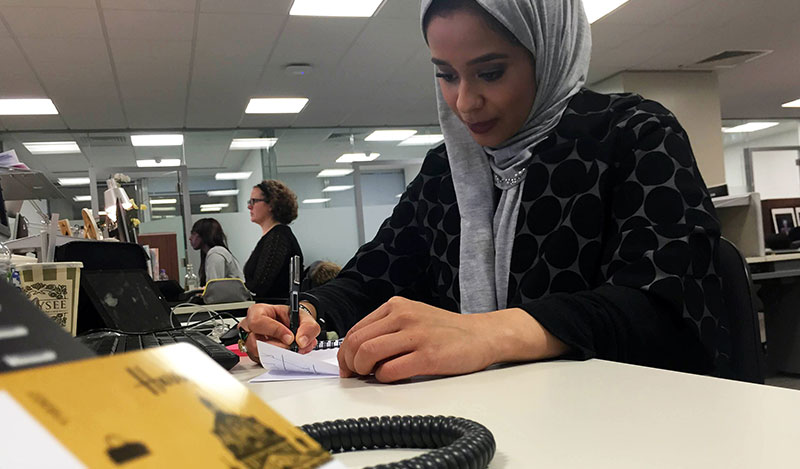 Just one week into their residency program, NU-Q students Malak Monir and Ralph Martins have had their work published by prominent media outlets USA Today and National Geographic, respectively, a feat that can take journalists years to accomplish. They are two of a cohort of twenty NU-Q journalism students who are making waves in high profile media organizations around the world.
Malak Monir received her first professional by-line with the story "States move to give terminally ill 'right-to-try' drugs," published February 19 by USA Today. Just a day later, National Geographic published Ralph Martins' story, "Modest mollusk may sport world's strongest material: The limpet's hardy teeth could inspire new vehicular designs, experts say."
"The students have wasted no time letting the media world know there are new journalists in town," says Mary Dedinsky, director of the journalism program at NU-Q. "We also have public relations students who are bringing their strong skill sets to strategic communication departments in cities throughout the United States and Europe."
The journalism residency program is particularly important since Qatar is emerging as the Middle East news hub. Many NU-Q graduates begin their careers in Doha-based media and communication organizations; during their residencies, students learn from professionals in some of the largest, most successful media operations in the world. These skilled and talented new graduates are crucial to a Qatar media industry that is transforming itself at rapid pace.
While students put in long hours during their residencies, the 10 weeks away from Doha is also a time to experience living in a different culture. Silma Suba, who is doing her residency at the Pulitzer Center for Crisis Reporting, coaxed her fellow students outside for her first snowball fight. "Silma is from Bangladesh, so snow is a new experience for her. She is working hard, yes, but little experiences like this also open students' minds to new paths and possibilities," says Dedinsky.
The students return from their residency programs in April. Once back in Doha, they will come together to share their experiences with sophomores who will be part of the 2016 program.
The organizations who are hosting student residents in London are: Quiller Consultants, Grayling, Bloomsbury Publishing, Harrods, Qatar Embassy and Tonic Life. The companies in Washington, D.C. are: USA Today, National Geographic Society, Pulitzer Center and Washingtonian Magazine. In New York City, students are working at: BLJ Worldwide, HuffPost Live and Financial Times. The remaining host organizations are: Al Jazeera +, San Francisco; The Ground Truth Project, Boston; Qatar Embassy, Los Angeles; and HBI Helga Bailey, Munich.
The 2015 residency students are: Mai Al Akkad, Reem Hasan M H Al Baker, Sara Al Darwish, Paulo Andre Fugen, Youmna Osmaa Al-Gailey, Zachary James Hollo, Mariam Mohd. S H Al Mannai, Ralph Jacob Martins, Malak Ahmed Monir, Amna Abdulwahhab M S Nasralla, Sophie – Jiang Qingjia, Ruba Shaath, Hissa Majid A M Al-Sowaidi, Silma Suba, Tamador Mohd. Al Sulaiti, Noor Khalifa A A Al Tamimi, Alanood Hamad Ali A Al-Thani, Nayla Rashid A M Al Thani, Noor Jassim M A Al Thani and Sara Nasser Al Thani.
Nayla Al Thani is a public relations student who has been placed in London. "Being in a foreign city allows me to adapt to an unfamiliar situation and feel independent. It also gives me an international database of networks that can help bridge the gap between the UK and Qatar."
"Our firm is committed to supporting the professional development of young Qatari students both in Qatar and our international offices," remarks Tamara Bullock, managing director for the Northern Gulf branch of Grayling. The public relations firm is hosting four students in their network of London offices. "These students are young and tech-savvy, which is a big advantage as public relations work is increasingly digital."
In her first year directing NU-Q's journalism residencies, Professor Dedinsky is looking to build on the existing program. This year, students in Washington, D.C. are connecting with Medill's D.C. newsroom in what Dedinsky calls "a residency program plus." Ellen Shearer, director of the Medill Washington program, will act as a mentor to the five NU-Q students in D.C., as well as the students in New York and Boston, while adjunct professor Jennifer Koons will give a five-week workshop on the communication scene in the US capital. Dedinsky would like to build on this next year, sending more students to residencies in Washington, D.C.
"The residency program is a core part of the NU-Q journalism degree," says Everette E. Dennis, dean and CEO. "We give students a solid theoretical foundation, but students also learn by doing. Residencies are an opportunity for them to jump into the journalism world with both feet and experience a busy newsroom or strategic communication department first-hand."