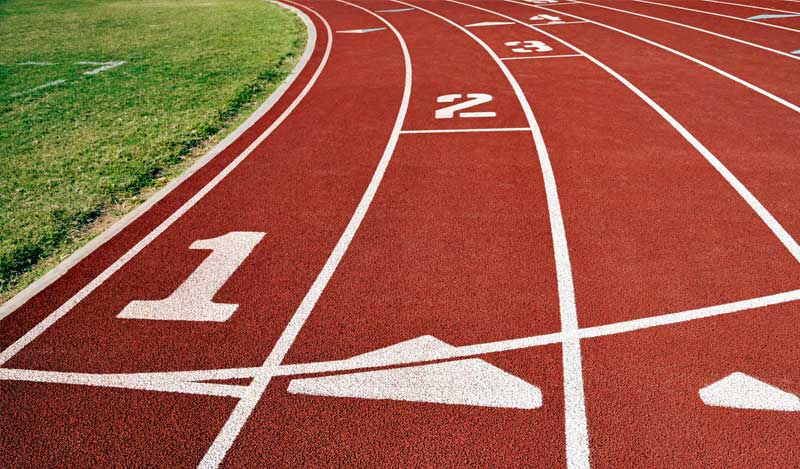 As Qatar prepares for the 2022 FIFA World Cup, students at NU-Q have launched a multimedia news website that explores the nation's attempts to cultivate a sports culture.
The website, Qatar Sports Tanmiya, covers the developing sports scene—from infrastructure to attitudes—in Qatar. The site features topics like the construction of state-of-the-art stadiums for the 2022 World Cup, growing support for local women participating in competitive sports, the promotion of athletics among the disabled and the enhancement of sports facilities for migrant workers.
The website creators are part of the Advanced Online Storytelling course at NU-Q.  In a span of five intensive weeks, students interviewed athletes and representatives of sports organizations, compiled statistics about rising sports infrastructure and researched the country's future plans to develop its sporting platform. The information they gathered has been packaged into multiple photo, video and data-animation reports.
Journalism lecturer in residence Christina Paschyn oversaw the production of the website. In the lead-up to the 2022 FIFA World Cup, Paschyn was curious to know the perspectives of locals and officials regarding the impact international sporting events may have on the country. "According to governmental statistics, not many Qataris play sports professionally or watch them in-person in stadiums, so we want to know how the ministries and private organizations are trying to change Qatari society through sports," she said.
The Advanced Online Storytelling journalism course prepares students for their junior-year public relations or journalism residencies, during which they spend 10 weeks working at a professional news or communication organization. The challenges students faced with this project have been good preparation for a professional environment. Malak Monir, who wrote an article about sports culture among migrant workers, experienced some difficulties during the reporting process: "The language barrier was something of a challenge, since a lot of my potential interviewees were not very comfortable with English or Arabic," she said. "I have learned that setting up interviews can take time and considerable persistence."
Monir, who is currently doing her residency at USA Today in Washington, D.C., is feeling confident about the skills she has learned at NU-Q: "I no longer feel particularly nervous about just going up and talking to people. You have to spend a lot of time out in the field, you have to be observant of details and you have to be able to approach people in a way that makes them comfortable enough to talk to you," she said.
"Students in this region are part of a media renaissance," says Everette E. Dennis, dean and CEO of NU-Q. "Technology is changing the way people get and share information all over the world, and especially in Qatar. Courses like Advanced Online Storytelling give students the opportunity to create content and use technology to find the best way to communicate their ideas."
In past years, students in the Advanced Online Storytelling class have tackled topical issues in Qatar like the environment (www.qatarvironment.org), construction and fire safety in Doha (www.qatarunderconstruction.org) and the national crisis of diabetes and obesity (www.qatarsweetepidemic.org)