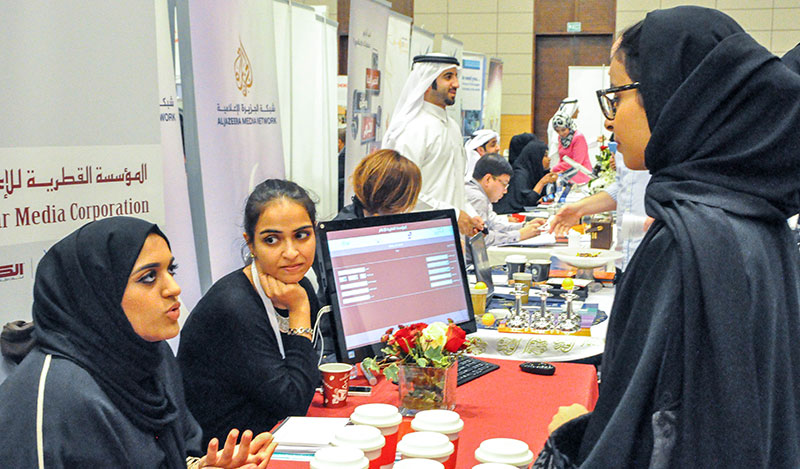 NU-Q students have seen first-hand the wide variety of opportunities to work and build a career in Qatar's burgeoning media and communication industry. The inaugural Education City Career Fair was held at Hamad bin Khalifa University (HBKU) student center last week, with media organizations among the best represented.
Media and communication in the Middle East is undergoing a major transformation, with Qatar at the epicentre of the change. More than 90 Qatar-based companies took part in the Education City Career Fair, of which more than 20 were from the media, public relations and marketing fields. Firms such as Al-Jazeera Media Network, Doha News, beIN Media Group, Doha Film Institute, OSN, Qatar Broadcasting Services, QF Radio and Blue Rubicon are offering students internships and employment opportunities, as well as a glimpse into how to launch a career in the rapidly evolving media scene in Qatar.  
Journalism senior Maha Al Ansari is looking at her employment options after graduation: "Attending the fair allowed me to learn more about how a person with a degree in Journalism can function in different corporations," she commented. "I became interested in many companies that I hadn't initially thought of approaching. The fair definitely increased my awareness of the different options that are available. "
Professional development is an important aspect of education at NU-Q. To prepare students, the school hosted a workshop on how to approach companies and get the most out of the career fair. NU-Q organized a fashion show that showcased approaches to dressing professionally and  equipped students with business cards to distribute to potential employers.
Everette E. Dennis, dean and CEO of NU-Q, believes that events like the career fair are an excellent opportunity for both students and industry: "This region is undergoing a media boom and we as educators encourage our students to make the most of the opportunities available in Qatar. At the same time, media organizations are growing and transforming at an exceptionally rapid pace; the career fair is a chance for our students to converse with local media professionals at a time when the industry is confronting great change. I want to extend my deepest gratitude to HBKU and our partner institutions for organizing this event, as well as the exhibitors for taking the time to connect with our students."