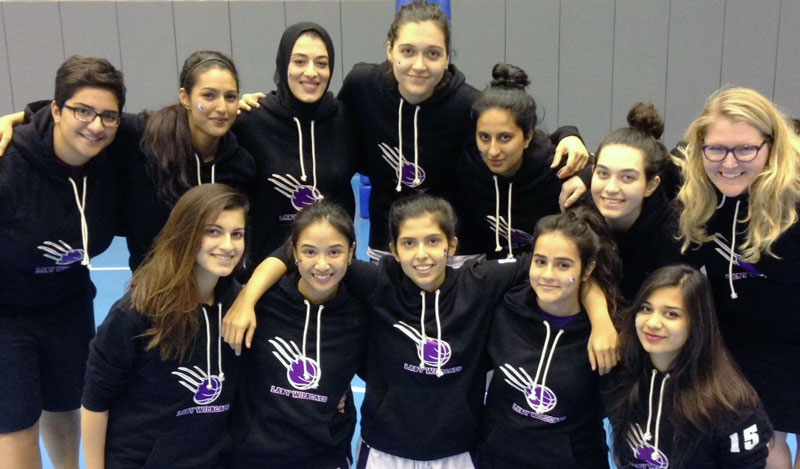 NU-Q is celebrating the success of its women's basketball team, which took first place in both the HBKU basketball league and tournament.
The NU-Q women defeated teams from Weill Cornell Medical College in Qatar, Texas A&M University at Qatar, Georgetown University in Qatar and Virginia Commonwealth University in Qatar to take the championship.
The winning team is comprised of senior captain Maha Al-Ansari (2015), junior captain Jemina Legaspi (2017), Angel Polacco (2015), Basmah Kamran Azmi (2018), Gena Al Aker (2015), Haneen Hindi (2015), Kauthar Odwan (2016), Nissryne Dib (2015), Noor Al-Thani (2017), Reem Saad (2017), Rouda Al-Attiyah (2018) and Valeria Marinova (2017). The team was mentored and coached by Dana Atrach, an NU-Q alumna and league MVP during her senior year, and Emily Wilson, an alumna of Northwestern University School of Professional Studies and manager for community relations at NU-Q.
NU-Q athletes must maintain a high standard of academic achievement, and the women's basketball team is no exception. Each player must maintain a minimum grade point average of 2.5, and a full half of the team members are on the Dean's List: Maha Al-Ansari, Nissryne Dib, Jemina Legaspi, Valeria Marinova, Gena Al Aker, and Haneen Hindi.
Senior captain Maha Al-Ansari says: "Being a part of the Wildcats basketball team has been one of the greatest learning experiences in my four years at Northwestern. Since my freshman year, I have dreamt of having a perfect senior season. This year, I had the honor of leading an amazing group of athletes to the championships. Words can't express how happy and proud I am of my team this year. We worked hard since day one, and having your hard work payoff is probably one of the best feelings in the world."
"I had the pleasure of seeing the NU-Q women play several games this season. Athletics is a vital component of NU-Q student life, promoting student health and school spirit," says Everette E. Dennis, Dean and CEO of NU-Q. "Players learn the skills of teamwork, self-confidence and performing under pressure, which complement their academic education. We are very proud of the achievements of this exceptional group of young women."
The NU-Q women's basketball team is the newest addition to Education City's Inter-School Women's Basketball League. Founded five years ago, the team has always placed in the top three, and this is the second time they have won the league championship.
At NU-Q, teams in men's and women's basketball and soccer compete in intercollegiate leagues in Qatar; the NU-Q student body enthusiastically supports their teams with pep rallies, a spirit squad and vocal attendance at the games. The University also organizes intramural leagues to promote health, camaraderie and a positive work-life balance for its students.